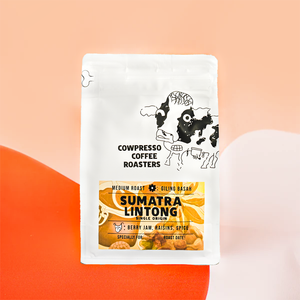 Sumatra Lintong (Roaster's Special)
Cowpresso Coffee Roasters Singapore
Regular price $19.00 $15.00 Sale
February Roaster's Special or until stocks last!
Sumatra Lintong Arabica G1 Triple Pick

Region:  Lintong, Aceh Tenggah, Sumatra Utara
District:

 
Humbang Hasudutan
 

Variety:
Ateng (Typica)
Elevation:
  1300m AMSL

Processing:
 Giling Basah (Wet-Hulled or Wet-Grinding)
Roast profile:
Medium Dark Roast this crop
Tasting notes:
 Berry Jam, Raisins, Spice, Cedar, Earth

Acidity: 
Medium acidity
Body:
 Medium body 

Tasting Experience

Reminiscent of berries, raisins and plums on the first gulp and balanced with hints of the earth and cedar at the end  - we love how the butterscotch berry pudding notes are accentuated with milk and it can be enjoyed as an easy hot and cold brew in your french press.
The wet-hulling method brings out the spicy flavours, fuller body and lighter acidity compared to a dry hulling method.
Wet Hulling Method
The wet-hulling method adopted in Sumatra removes the mucilage of the coffee beans just 24+ hours after the drying process has started for the de-pulped coffee cherries. At this point, the moisture content of the bean ranges from 25-35%, where it is placed back in the sun for further drying before the moisture content reaches 12%.
In contrast, the dry hulling method dries whole coffee cherries to 12% moisture straightaway before the mucilage is removed.

Farm Information

Aek Nauli is a small village in the Humbang Hasudutan, located at the southern part of Lake Toba in North Sumatra. The Lintong region grows some of the most prized Arabica beans.
Housing a total of 500 coffee farmers,  the people from the Batak Tribe grow coffee plants on 4 
km²
of fertile land that produces a limited supply of 200-300 tonnes of coffee every year.
These growers hand pick the coffee cherries, put them through Giling Basah, a method that was developed out of a practical need to dry the beans quickly in a tropical, humid environment. Today, the beans are processed this way for the unique tastes the process brings out compared to a typical dry-hulling method.
Packaging
Premium White Matte Block Bottom Pouches with One-way valve & Easy-Tear Resealable Zipper. Heat Sealed for extended freshness of your Freshly roasted coffee beans.