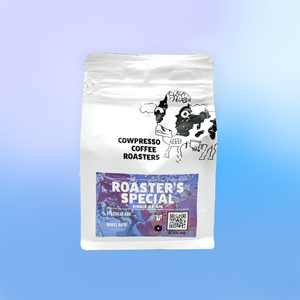 Brazil Rancho Roaster's Special
Cowpresso Coffee Roasters Singapore
Regular price $15.00 Sale
Rancho Single Origin
Region: Fazenda Rancho Grande
Varietal: Topazio
Elevation: 950m
Process: Natural Anaerobic
Tasting Notes: Licorice, Dried Fruits, Dark Chocolate, Tropical Fruits
Body: Rich and Syrupy
Acidity: Medium
Roast Level: Medium roast
Tasting Experience
As an espresso, savour the harmonious blend of liquorice, dried fruity notes, velvety dark chocolate, and a touch of tropical fruits.
When brewed as a filter, indulge in a balanced symphony of flavours, where the essence of liquorice intertwines with the delightful sweetness of dried fruits, complemented by subtle hints of dark chocolate and tropical fruit undertones.
Farm Information
Mr Aneite Reis started producing coffee at Rancho Grande Farm in 1933. The family business has been carried on by the second and third generation who also rear cows for dairy and meat production, and subsidise electricity and food for their team members living on the farm.
Recently, new farming techniques such as static drying boxes have been adopted to improve coffee bean production. Static drying boxes are 1m deep boxes with capacity for 15 cubic metre of cherries. The vented grill at the bottom of the box allows air to circulate from the bottom to dry the coffee.
Coffee cherries at the Rancho Grande Farm are mechanically harvested, and the ripened cherries are sorted by differences in density before being placed into the static drying boxes.
The drying temperature is maintained at 35 degrees for roughly 11 days until the moisture level reaches 11.6%, after which the coffee is left to rest for a further 26 days to stabilise moisture levels to below 11%.  
Packaging
Premium White Matte Block Bottom Pouches with One-way valve & Easy-Tear Resealable Zipper. Heat Sealed for extended freshness of your Freshly roasted coffee beans.