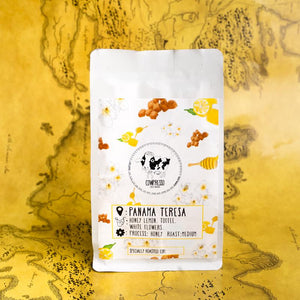 Panama Teresa
Cowpresso Coffee Roasters Singapore
Regular price $23.00 $19.00 Sale
SOLD OUT
Panama Teresa Arabica 

Region: Boquete, Chiriqui Province
District: Santa Clara
 

Variety: 
Caturra
Elevation:
 1400m-1800m AMSL
Moisture: 10.6%
Roast profile:
Medium Roast
Tasting notes:
 Honey Lemon, Toffee, White Flowers

Acidity:
Medium acidity
Body:
 Medium & Complex body 

Tasting Experience

Hints of lemon honey spark joy in the caramelized toffee base, making this a crowd favourite for all types of brewing methods. Pair it with your waffles, pancakes and french toast for breakfast or bring it out as an after-meal drink while entertaining.
Honey Processing Method
No actual honey is added, with the natural sweetness coming from the mucilage which is not washed off immediately and later mechanically removed. Read more about Honey Processing
here
.

Farm Information

Santa Teresa is a bespoke high altitude coffee farm in Panama, Santa Clara, Chiriqui Province. Blessed with rich black volcanic soil, abundant sunlight balanced with cool temperature from it's high altitude and located along undulating valleys and ridges that create micro-climates which influence the tasting notes in coffee lots. Carefully handpicked at a smaller farm separated by untouched forest from the established Finca Santa Teresa where the coffee mills processes the coffee.
Packaging
Premium White Matte Block Bottom Pouches with One-way valve & Easy-Tear Resealable Zipper. Heat Sealed for extended freshness of your Freshly roasted coffee beans.