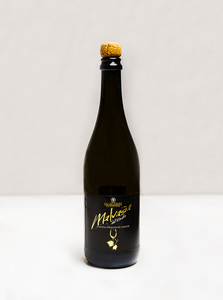 Malvasia dell'Emilia I.G.P. Sweet White Frizzante
Cowpresso Coffee Roasters Singapore
Regular price $60.00 Sale
Malvasia dell'Emilia I.G.P. Sweet White Frizzante
Self Collection Only
At Cowpresso Flagship Store
Location:
21 Lorong Kilat #01-07 S(598123)
Operating Hours:
Wednesday (10am - 8pm)
Thursday (10am - 8pm)
Friday (12pm - 10pm)
Saturday (10am - 10pm)
Sunday (10am - 10pm)
Monday (Closed)
Tuesday (Closed)
Malvasia dell'Emilia IGP is a partially fermented, musk, sparkling sweet white frizzante. Straw yellow color with light green reflections and a refined perlage resulting in a typical varietal aromatic sweet smell; sage, citrus, yellow rose and white flowers. The matrix of the vine also re-emerges to the taste in the refined and long sensations of the aromas on the palate which persist beyond the sweet yet not nauseating temperament and the dominance of fresh tartaric acidity.
➤ Grapes: Malvasia Grapes
➤ Colour: Straw white with golden reflections
➤ Notes: Intensely aromatic and fruity, harmonious, characteristic
➤ Taste: Dry, harmonious, rightly acidic, aromatic
➤ Food Pairing: Fruit cakes, cream filled pastries, doughnuts, danish butter cookies
➤ Serving Temperature: 8 - 10 °C