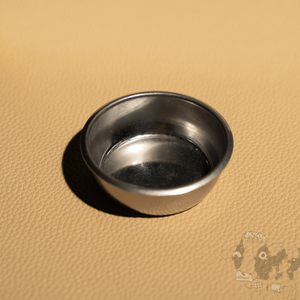 (57mm) Lelit Portafilter Basket (Single/Double/Triple/Blind/Pressurised)
Cowpresso Coffee Roasters Singapore
Regular price $15.00 Sale
Can be used on Bottomless/Naked Portafilter or Spouted portafilter. 

Select from:

Single

Double

Triple

Blind

Pressurized
Lelit Blind Filter (57mm) is used for machine maintenance by using pressurized hot water to flush the grouphead and prevent coffee stains containing acid and organic oil from corroding the gaskets over time if left untreated. 

The blind filter seals the portafilter, preventing hot water from escaping and the pressure formed in the grouphead will clean it.

Recommended to clean at least twice a week for coffee addicts, with grouphead detergent like the Puly Caff Detergent

Instructions:
1. Place Lelit blind filter basket in your portafilter holder.
2. Place grouphead detergent in the blind filter. (Optional, suggested once a week)
3. Load the portafilter with Lelit blind filter and secure into the group.
4. Let the machine run for about 5 seconds. Watch the pressure rise.
5. Stop the machine to depressurize the group, cleaning solution or water will be released into the drip tray (this is the actual backflush).
6. Repeat step 4 and five a few more times to flush the machine with just water.

LELIT Espresso Machines which use 57mm portafilters:
ANNA PL41LEM
ANNA PL41TEM
ANITA PL042EM
ANITA PL042TEMD
DIANA PL60R1
GRACE PL81T 

Made of the finest material to last.
Made in Italy
Size: 57MM
Cowpresso is the authorised dealer and distributor for the Lelit Blind Filter sold.
We are committed to offer the best accompanying accessories to complement the experience of every user.
Please feel free to submit any queries through our whatsapp messages or facebook.