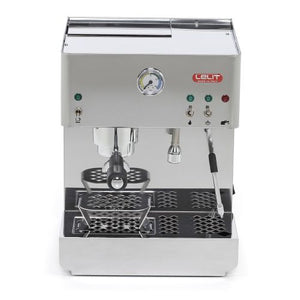 Lelit Diana PL60R1 Double Boiler (DISCONTINUED)
Cowpresso Coffee Roasters
Regular price $1,302.00 $0.00 Sale
FREE delivery within Singapore, 6 Months Warranty (With no coverage over misusage) 

To place an order through bank transfer/paynow, email hello@cowpressocoffee.sg with your name, delivery address and contact details. Drop us a WHATSAPP MESSAGE at +65 8550 8143 for all your machine-related questions.
This model is discontinued. Do not purchase online. Purchasing it does not mean you will receive it, thanks for trying!

Bank Transfer Price: 1549
Credit Card: 1611

NETT pricing no additional tax or hidden cost. Shipping charges and local tax rules apply for international orders.

Please do not order through the website. CC has a 4% surcharge.


Diana - PL60R1
THE ESPRESSO MACHINE WITH COFFEE BOILER AND STEAM BOILER

Diana is the group of professional machines for those who love to brew not only espressos: thanks to the two independent coffee and steam boilers you can make as many cappuccinos, teas, herbal infusions as you want, without compromising on the quality of your Espresso. Thought for an intensive use of the steam and for brewing an Espresso worthy of the best bar, Dianas are semi-professional machines for high performances.
Features
Wide cup warmer.
Lever switches.
Multidirectional steam wand.
Fixed water wand.
Mug friendly – espresso cup rack.
57 mm filterholder.
Manometer for coffee pressure.
Stainless steel appliance body
Tank water level visible from the side
3 way solenoid valve to dry up the coffee powder
Possibility to cut off the steam boiler only
Electronic card for steam boiler recharge
250 ml brass boiler for PL60R1 – 300 ml brass boiler for PL60PLUSTR1
600 ml stainless steel steam boilerAcoustic alarm for lack of water in the tank.
Technical data
Water tank:2,5 l
Coffee/water pump:15 bar
Steam pump:15 bar
Dimensions LxDxH:30,5x28,5x39,5 cm
Steam boiler heating element:1000W
Voltage:230V 50Hz
Weight:13,7 kg
Coffee boiler heating element:1000W

Accessories delivered with
1 and 2 cups filters, pod filter and 35 l water softener resin filter

Check out the Lelit Diana Espresso Machine in Video: https://www.youtube.com/watch?v=PnWeG-n0hXs