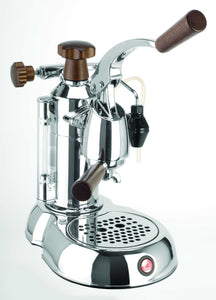 La Pavoni Stradivari
Cowpresso Coffee Roasters
Regular price $0.00 $0.00 Sale
We thank you for your interest but we no longer distribute the La Pavoni Stradivari. You can explore our current offerings for coffee beans, coffee equipment and machines in the tabs above :)

NETT pricing no additional tax or hidden cost for Singapore orders. Local tax rules apply for international orders.
Stradivari STL/STH
After the success of the model Europiccola (1950) and Professional (1970), comes Stradivari(2005), a machine that synthesize, the most pure shape and the most reliable technics thanks to the centenarian experience of La Pavoni.
The model Stradivari together with the coffee grinder Jolly and the plinth are the functional answer to the consumer's need.

The model Stradivari has been studied drawing inspiration from the violin, sole musical instrument, became a work of art thanks to the famous lute-maker lived in Cremona, Antonio Stradivari. The plinth remind to the violin case and the lever to the bow. The result is to obtain a performance and an aesthetic and functional pleasure.
Technical data
Boiler capacity l. 0,80
Number of cups of espresso brewed 8
Steam delivery 10 min
Boiler pressure 0,7-0,8 bar
Average heating time 5 min
Safety valve
Steam tap with interchangeable device steam pipe / Cappuccino Automatic
Water level indicator
On/off switch
Indicator light
Cappuccino Automatic
Control pilot temperature
Manual reset safety thermostat
Pressurestat to keep a constant pressure in the boiler
Heating element 950
Width, Depth, Height 200x290x320 mm
Weight 5,5 Kg
Safety valve
Alimentation 220-240V 50/60Hz - 120V 60Hz

Additional S$100 for blonde brown handle bars.