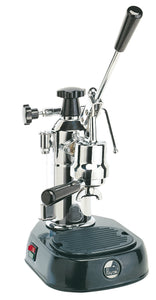 La Pavoni Europiccola EN
Cowpresso Coffee Roasters
We thank you for your interest but we no longer distribute the La Pavoni Stradivari. You can explore our current offerings for coffee beans, coffee equipment and machines in the tabs above :)

NETT pricing no additional tax or hidden cost for Singapore orders. Local tax rules apply for international orders.

Europiccola, EN
Europiccola, designed in 1950 and Professional, in 1970, are a sort of mirror of a part of the Italiandesign history.A combination of style, quality and reliability.The classic lever machine continuously evolving since its introduction. This machine is largely constructed of cast brass and is built to last. The large boiler ensures that limescale deposits have minimal effect, meaning minimum maintenance is needed. This model enables to deliver 8 cups of espresso continuously.

Technical data 
Boiler capacity l. 0,80
Number of cups of espresso brewed 8
Steam delivery 10 min
Boiler pressure 0,7-0,8 bar
Average heating time 5 min
Safety valve
Steam tap with interchangeable device steam pipe / Cappuccino Automatic
Water level indicator
On/off switch
Indicator light
Cappuccino Automatic
Control pilot temperature
Manual reset safety thermostat
Pressurestat to keep a constant pressure in the boiler
Heating element 950 W
Width, Depth, Height 200x290x320 mm
Weight 5,5 Kg
Safety valve
Alimentation 220-240V 50/60Hz - 120V 60Hz