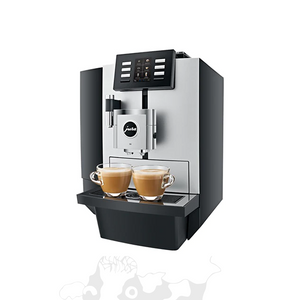 JURA X8 PLATIN AUTOMATIC COFFEE MACHINE CAPPUCCINO HOME OR OFFICE
Cowpresso Coffee Roasters Singapore
Regular price $3,180.00 Sale
JURA X8 PLATINUM - PROFESSIONAL COFFEE MACHINE FOR HOME OR OFFICE USE
Recommended for home use, or cafe and office use 30-50 cups a day.
ROBUST, VERSATILE AND PRO
LOCKABLE HOPPER AND WATER TANK
For milk coffee lovers - enjoy the full range of specialty coffees finished with milk liquid and/or milk foam! A cuppa black coffee available as well as a pot of coffee for long meetings without interruptions. For tea drinkers, it also serves hot water at different temperature levels. With its solid, height-adjustable dual spout, it can create 1 cuppa specialty coffee – or 2 cups at the same time – and dispense them into the shorter or taller coffee mugs or shot glasses, at one touch of a button.
For offices, the menu is customisable if you would like to only serve black coffee, so you can hide away the milk options which makes cleaner much easier!
Specifications:

Dimensions: 37 × 56.5 × 49.7 cm (+11.7cm for Milk Fridge purchased separately)
Weight: 19 kg
Coffee Type: Black and Milk, Single or Double Shot
Optional Add on: Milk Fridge

Hopper capacity: 1Kg
Waste Bin capacity: 

40 Serving
Jura Accessories for the X8:
Delivery is Included for this item
If you would like to rent this machine for home, event, or office use, kindly drop us an email at hello@cowpressocoffee.sg or whatsapp 85508143 with as many details as possible. Thank you.