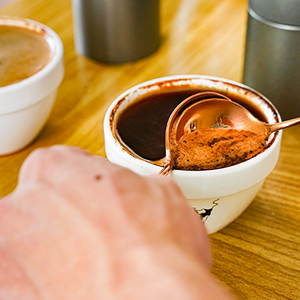 Intimate Coffee Workshops
Cowpresso Coffee Roasters Singapore
Regular price $449.00 Sale
Looking for a private coffee workshop with your family and closed friends to celebrate an occasion or just spend some quality time with each other?
Learning Session Suitable for:
Hen / Bachelors / Stag Parties
BFF, Couple, Family Bonding
Birthday & Anniversary Celebrations

Client Appreciation
Team & Community Bonding
Do I need prior experience?

Nope! We welcome people from all knowledge levels, from people who are just tagging along with their loved one with no prior knowledge or people who have obsessed over the smallest details to come together to explore and enjoy coffee!
Structured Learning through demonstrations &/or games
Does your group thrive on friendly competition or games? We can work this out to build teambuilding. Perhaps you're exhausted from the hectic day to day and would prefer a chill session while learning on the go?
Coffee Workshop Programme Outline:​

Building the theoretical foundation of your Coffee Knowledge
Applying your knowledge with hands-on Espresso, Milk Frothing, Basic Latte Art
Why Us?
Our team consists of professional baristas, roasters and enthusiastic coffee technicians! Learning to brew Specialty Coffee is a fun, enjoyable and meaningful process. Our team is dedicated to helping participants master the art of brewing with the right coffee beans, equipment, skills, teaching and knowledge. You will procure the pragmatic hard skills needed to brew delicious coffees for yourself and your loved ones. Drop us an email at hello@cowpressocoffee.sg with no obligations! We are happy to guide you along your coffee journey.
Duration: Estimated 2 (2-3 people) to 2.5 hours (4-7+ people)

Class Size: Recommended 3 to 7 pax