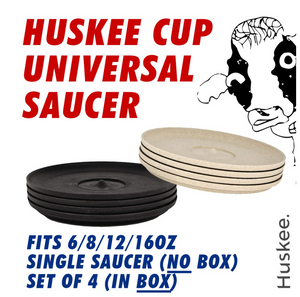 Huskee Universal Saucer Plate Coffee Cup (Charcoal/Natural)
Cowpresso Coffee Roasters Singapore
Huskee's Universal Saucer stacks neatly and the reusable coffee cups' universal lid has been designed to give you a cafe drinking experience on the go!

Huskee's Universal Saucer has been designed with cleanliness in mind. It's streamlined design means there's nowhere for coffee to hide once you've given it a wash! Plus, HuskeeCup's base features drainage vents that ensure water runs straight off the cup after cleaning. No more nasty liquid pools!

Huskee products are made up partly of recycled coffee husk. During the milling stage of coffee production, huge amounts of coffee husk are created, and this husk is a natural waste byproduct. Do your part for sustainability and use a Huskee cup today!

Do note that the Universal Saucer does not fit on the 3oz Espresso Cups. The 3oz cups uses a separate 3oz saucer system! All saucers are sold in packs of 4.

Looking to buy in bulk? Contact us for a quote.

Repurposes waste material (coffee husk)
Keeps your coffee hotter for longer
Comfortable to hold & cool to touch
Durable & dishwasher friendly
Universal Lid & Saucer
Non-toxic (BPA free)
Easy to Clean
Stackable Cup and Lid sold separately.