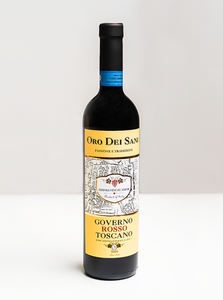 Governo Rosso Toscano (Red Wine)
Cowpresso Coffee Roasters Singapore
Regular price $60.00 Sale
Governo Rosso Toscano (Red Wine)
Self Collection Only
At Cowpresso Flagship Store
Location:
21 Lorong Kilat #01-07 S(598123)
Operating Hours:
Wednesday (10am - 8pm)
Thursday (10am - 8pm)
Friday (12pm - 10pm)
Saturday (10am - 10pm)
Sunday (10am - 10pm)
Monday (Closed)
Tuesday (Closed)
Governo Rosso Toscano (Red Wine)
The vivid and deep red of Governo is the emblem of its strong character. The nose offer notes of ripe cherries, forest berries and spicy cloves for an unmistakable and uniquebouquet. The smooth taste is the perfect balance between softness and acidity which make it and ideal companion to tasty pasta dishes and roasted meat in general. 
Governo is made according to the ancient Tuscan traditions of the Governo Toscano where selected and slightly dried grapes are added to already fermented wine. This is to prolong the times of fermentation while releasing the grapes substance and flavour to obtain a fruity wine with long-lasting taste characteristics. 
➤ Grapes: Canaiolo Nero Grapes
➤ Colour: Deep red impenetrable to The Eye
➤ Notes: Hints of cherry, black cherry and very ripe fruits complemented with spicy aromas
➤ Taste: Full and delicate - the right compromise between softness and acidity
➤ Food Pairing: Gamey red meats, seasoned cheese, stews and earthy pasta dishes 
➤ Serving Temperature: 17 - 19 °C