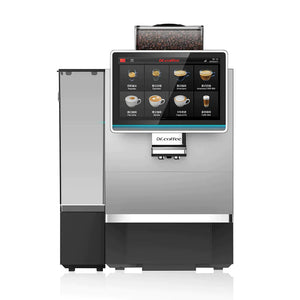 Drcoffee Coffee Break Plus
Cowpresso Coffee Roasters Singapore
Regular price $3,125.00 $2,454.00 Sale
"Coffee Break" is perfect for small or medium-sized premises. With its colour touch screen and simple, sleek style, this machine is guaranteed to provide you with a brand new coffee-brewing experience.
30 DRINKS WITH A SINGLE TOUCH
 The 10.1″ touch screen offers multiple language options and is simple to operate. It also enables you to explore as many as 30 coffee recipes and change the lights illuminating the coffee belt. Enjoy excellent coffee drinks at the touch of a button!
CERAMIC GRINDER
The ceramic grinder works perfectly with the high/low pressure brewing system, offering everything you could ever look for in quality brewing for business scenarios.
EASY MAINTENANCE 
The detachable milk system, non-interfering automatic cleaning program and hidden milk tube all make the maintenance of this machine particularly simple.
PRODUCTIVITY OF DR. COFFEE "COFFEE BREAK"
– Recommended output: 100 servings per day
– Hourly espresso (50 ml) output: 70 servings
– Hourly americano (240 ml) output: 50 servings
– Hourly cappuccino (180 ml) output: 50 servings
– Hourly hot water output: 15 l
– Water tank capacity: 2 l (optional 8-litre water tank or connection to the mains water supply)
– Capacity of the bean container: 1200 g
– Capacity of the grounds container: approx. 70 servings (1 serving = 10 g of coffee)
 COWPRESSO is the Official Dealer for DrCoffee Mini Bar S2, Coffee Break Plus and C11 models in Singapore. Spare parts, afterservice and repairs for these models are under our exclusive responsibility. Price Match Guaranteed.
Promotional price for the first 10 Units.