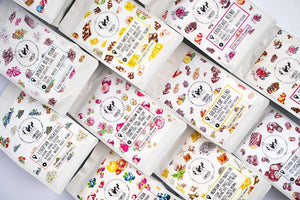 Curated Coffee Plan (with doorstep shipping)
Cowpresso Coffee Roasters Singapore
Regular price $67.00 Sale
Enjoy a Single Origin or Blend sent to you every week
Perfect for coffee experimenters who want to experience different types of Arabica beans without the hassle of making a new order every time

Plan comes with Doorstep shipping to ensure your packages are tracked and you get to enjoy each parcel before the next one comes. Read our shipping terms for more information!
Whole Beans!
Choose from 2 plans!


Cowpresso Blends + Specials Plan (4 parcels)
 include:
Monthly Roaster's Special

Monthly Roaster's Special 2
Golden Cup/Nanyang Kopi
Ethiopian Apex Trio

Single Origin + Specials Plan (4 parcels)
include:
Yirgacheffe Misty Valley 

Brazil Santos
Monthly Roaster's Special
Monthly Roaster's Special 2



Extra personalisation

Decaf has been removed from the list due to subscribers preferring caffeinated coffee. If you would like to try our Decaf coffee, we will switch it out with the Apex or Roaster's Special


T&Cs
Once bought, plans will not be refunded in any form 

There are no pauses for plans

Note for international orders, total number of parcels in the chosen subscription will be sent in one delivery. Please email us at hello@cowpressocoffee.sg to confirm shipping rates before placing order.