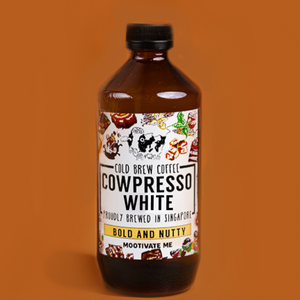 Cowpresso Cold Brew White (COW MILK)
Cowpresso Coffee Roasters Singapore
Regular price $32.00 Sale
Lovingly brewed for 12 hours, thickened with Full Cream Milk!
Please shake before drinking! 

Reuse the amber glass bottles to hold your own coffee or stash bottles of water in the fridge so you have cold water anytime.

Ingredients
Cowpresso Coffee Beans, Full Cream Milk, Water 

Storage
As milk is added, we recommend you finish each drink within 3 days for optimum freshness

Delivery within Singapore
We require a few hours to freshly prepare your Cold Brew White, and will arrange to send it out when it is ready! Sentosa, Changi & Tuas addresses will incur a surcharge!