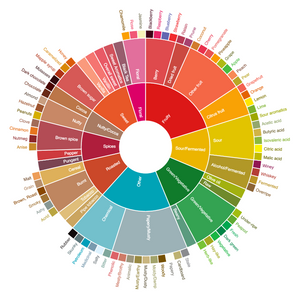 Olfaction training and it's impact on Taste
Cowpresso Coffee Roasters Singapore
Regular price $154.00 Sale
How to Sign Up?

Drop us an email at hello@cowpressocoffee.sg or whatsapp +6585508143
Course Objective
On completion of the olfaction training, the learner will appreciate how Professional Baristas and Coffee Graders discern the flavour notes from roasted coffee. Competency in using the knowledge and skills acquired to translate their interpretation of different Specialty Coffee Beans with varying roast levels, processing and origin into words to convey the nuances to fellow coffee lovers. 
Learning Outcomes
Specialty Coffee Scoring on Cupping Form
Usage of Flavour Wheel
Calibrating sense of smell with the Le Nez Du Café Aroma Kit
This class uses the Specialty Coffee Association certified Coffee Aroma Kit by Le Nez Du Café for participants to gain a better understanding of how your olfactory senses influences 80% of your perception of an item's tasting note.
Pre-requisites before attending this class
In order to fully understand and enjoy this educational session, participants are expected to have either gone through at least one of the following Cowpresso courses or their equivalent if taken elsewhere:

Who Should Attend?
All food and service personnel who are responsible for preparing barista coffee, anyone who has the passion to upgrade and work in the Food and Beverage industry, interested hobbyists and passionate home-to-be baristas! Avoid paying overpriced bad coffee at cafes and make professional specialty barista coffee in the comfort of your home today!
Why Us
Our team consists of professional baristas, roasters and enthusiastic coffee technicians! Learning to brew Specialty Coffee is a fun, enjoyable and meaningful process. Our team is dedicated to helping participants master the art of brewing with the right coffee beans, equipment, skills, teaching and knowledge. You will procure the pragmatic hard skills needed to brew delicious coffees for yourself and your loved ones. Drop us an email at hello@cowpressocoffee.sg with no obligations! We are happy to guide you along your coffee journey.
Health & Safety
All participants' health and safety are of the utmost importance to us. Close supervision is ensured. Heavy tools are used; you may want to wear safety / covered shoes for this workshop experience. If you show symptoms of fever, shortness of breath, or cough, please notify us and do not attend the lesson.
Terms and Conditions
A refund of 50% of the workshop fee will be issued for all the cancellations made in writing and received less than 14 days before the workshop date.
No refunds or credits will be issued for No Shows on the day of the workshop.
We reserve the right to cancel the workshop activity in the event beyond control such as illness, venue availability, or bad weather. If we cancel the session, a refund will be issued within 14-days of notice.
There is an inherent safety risk involved in any workshop session. By registering for this course, Cowpresso and its employees disclaims all responsibility for any loss, injury or damage that happened during the event.
Duration
2 Hours. This course is carried out at our Cafe. 
If you wish, a group class can be conducted at your Cafe, Home, Office or Desired location with an attractive fee of +$100, a small fee to cover transport, time and packing costs. Please note that these includes one grouphead espresso machines only and not commercial grouphead machines.
Course Fee
NETT Price. Full Course fee $200/pax. Bring a friend along and the second Pax will cost only $175 extra. (At least 1, Maximum 4 Participants for your own benefit)

Cowpresso Specialty Espresso Coffee Blend, Equipment, Time & Labour for the lesson will be covered.
Book an appointment here with us or call us :')