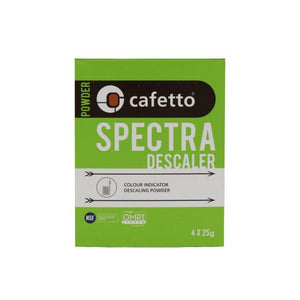 Cafetto Spectra Descaler (2x25g, 4x25g)
Cowpresso Coffee Roasters Singapore
Regular price $10.00 Sale
FREE Singapore Shipping to mailbox with no tracking
Not sure when to stop descaling the machine?
This colour coded descaler indicates whether the descaling cycle is sufficient or when you may need to do another cycle.

Instructions (please consult your coffee machine manual if you are not sure):
1) Dilute 1 sachet (25g) of Spectra Descaler powder into 500ml/500g of water to form a solution
2) Refer to Machine Manual instructions on how long to leave the solution in your machine.
3) Ensure the solution has entered your machine by purging the boiler(s) and stop when soapy water from the coffee brewing water grouphead.
4) Leave for 15-30mins
5) Purge descaler from the machine.
6) If blue, repeat descaling cycle. If orange, descale is successful.
7) Clean the machine by purging with water until water is clear and has no taste or smell
This is compatible with popular machines out there: Lelit, Sanremo, Rocket, ECM, Decent, La Marzocco, Ascaso, Breville, Nespresso, Dolce Gusto. If you are not sure, always consult your user manual or the manufacturer. We are not responsible for your machine's warranty conditions.