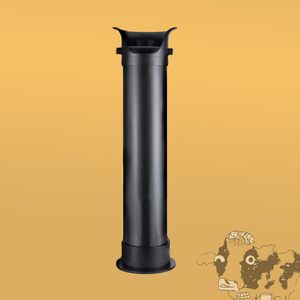 Professional Standing Knock Box
Cowpresso Coffee Roasters Singapore
Regular price $138.00 $97.00 Sale
This Professional Knock box is 85cm tall with a thickness of 0.5cm. Used mainly in commercial cafe or coffee corner settings, this knockbox chute tube is highly durable for daily Barista (hits) use and shock resistant.
Removable top collar and bottom stand for easy cleaning, and optional use with trash bags for easier cleaning.
Removable bar for knocking portafilters or holding your barista cloths.
If buying multiple pieces, please drop us an email at hello@cowpressocoffee.sg with your phone number to arrange for delivery

Dimensions: 85cm tall

For Other Available Knockboxes:

Classic Stainless Steel Knock Box with Pull Out Tray