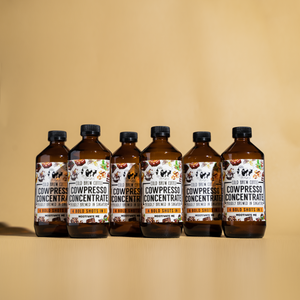 Cowpresso Cold Brew Concentrate (Chocolatey)
Cowpresso Coffee Roasters Singapore
Regular price $43.00 $35.00 Sale
Brewed for 16 hours in cold water, get some respite from the humidity with this clear and refreshing 100% Arabica cold brew coffee concentrate made with Cowpresso specialty roasted beans which has ZERO calories.

Comes in 250ml dark, amber glass bottles as coffee can react with plastic bottles and to shield your drink from the light. 
1 bottle makes 4 drinks. Recommended 1:1 ratio with milk, adjust to taste! If you prefer black coffee, we recommend you purchase the cold brew black instead of concentrate.

Reuse the glass bottles to hold your own coffee or stash bottles of water in the fridge so you have cold water anytime. 

Comes with complimentary delivery!

Ingredients
Water and Coffee
No Sugar | No Preservatives | No Calories | No Milk | No Animal Products | Organic | No Alcohol

Storage
We recommend you finish each drink within 14 days for optimum freshness, but it can last up to a month in the fridge. 

Delivery
These bottles take 2-3 working days from order date to be made. Our next shipping date and the cut-off timing for that date can be found here https://cowpressocoffee.sg/collections/frontpage

Self collection when order has been made can be done  at 21 Lorong Kilat #01-07

Tips:
Enhance the fruitiness by adding a teaspoon of honey or to taste!