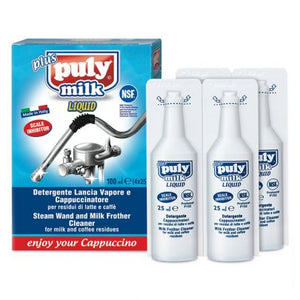 Puly Milk Steam Wand Cleaner
Cowpresso Coffee Roasters Singapore
Regular price $19.00 $15.00 Sale
Free Next Day after shipping date Courier Delivery (Please check our shipping dates)
Puly Milk is imported from Italy. Well known original, powerful and versatile liquid steam wand and milk frother cleaner. NSF approved, featuring a unique formula that cleans both calcium and fat deposits left on steam wands, stainless steel pitchers and steam frothers on contact.

Puly Milk can also be used to soak and clean cups, drip trays, filter baskets and other parts of an espresso machines which becomes dirty over time.
Most used brand for cleaning milk steam frothers.
INFORMATION
Puly Milk removes both calcium, fat deposits and removes stubborn milk stains.
Easy to use one time dose

NSF approved
Made in Italy
25ml/bottle

How to use the Puly Milk Wand Cleaner:
1) Immerge steam wand into a jug with 500ml of cold water and pour 1 dose bottle of detergent into the water
2) Open/close the steam knob on the coffee machine for 10 times
3) Immerge the steam wand into a jug with 1L of cold water 
4) Repeat Open/close the steam knob on the coffee machine for 10 times