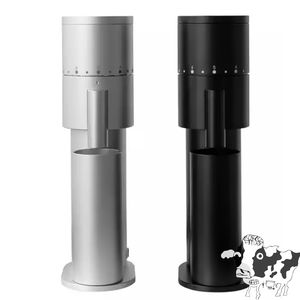 Mini40 Portable Electric Coffee Grinder (PREORDER)
Cowpresso Coffee Roasters Singapore
Regular price $425.00 Sale
Unbelievably compact and Mini · Portable · Made to last · For both Pour-over and Espresso · Stable and Uniform grind ·
No, this is not Option-O by Lagom, Mini40 has no brand. Both manufactured in China, with and without name brand, at different price points.

Size: L

6.5 X W9.5 X H24 cm


Weight: 

1.5 kg


Capacity: 

30 g 
NETT Final Pricing:
100% Best Price Guaranteed.
$569 (Credit Card Payment + Shipping)
$519 (Credit Card Payment + Self Pick Up)
$549 (Bank Transfer/Paynow + Shipping)
$499 (Bank Transfer/Paynow + Self Pick Up)
For Credit Card Payment: Purchase on the website. 4% Credit Card Fees apply (included in stated pricing). They cannot be refunded.
For Bank Transfer/Paynow: Do not purchase on website. Drop us a WHATSAPP message at +65 8550 8143 for payment.
The product does not have a shipping fee. We simply provide a discount for self pick up. 

In the case you have selected the bank transfer price option, but purchased online through Credit Card, you will have to top up the difference via bank transfer.
Note: To place international orders, email us at hello@cowpressocoffee.sg. Please do not submit an order through the website as we need to quote for shipping.